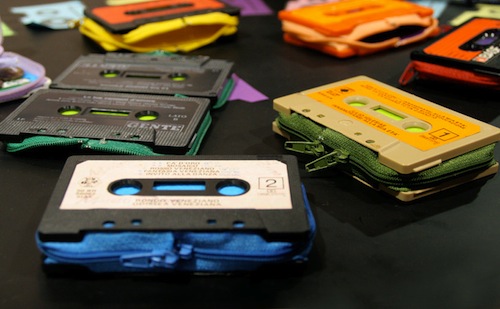 Wallets have been used for centuries as a handy way to carry around valuables such as provisions, perishables, coins, and books of accounts. In fact, historian Lawrence C. Wroth described a Renaissance-era merchant's budget (or "bowgett") as a leather case containing money, ledgers, and some food.
Wallets today generally only have room for a few coins, some banknotes, and a handful of credit cards. And while it's possible to spend megabucks on designer versions, you can also find examples made from recycled objects and materials – be they cassette tapes or soda tabs. These designs are not only more creative than off-the-shelf wallets, but they also show how recycling can produce functional items at a low cost. What's more, there's a lesson in this, as helping clients to save money is of course a vital part of an accountant's role.
10. LEGO Bricks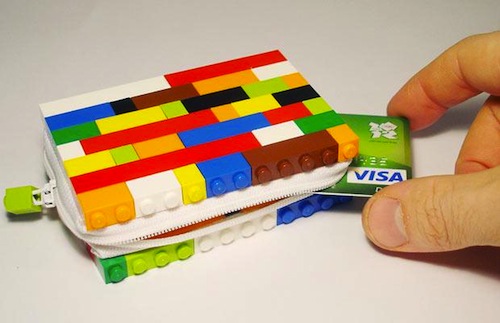 LEGO has been used to make an array of impressive items – everything from a working harpsichord to a replica Volvo XC90 car. And while this wallet is a little smaller in scale than other such LEGO masterpieces, it's still pretty cool – and, we might add, probably more useful in everyday life.
Ryan Chapman of Newcastle, England designed the colorful creation and glued together its 57 plastic bricks to keep it extra durable and long lasting. After all, who wants to end up struggling with a pocket full of coins and cash when their wallet breaks? Some versions of the wallet are made using LEGO base plates, so the owner can add their own bricks for a truly personalized design.
9. NES Controller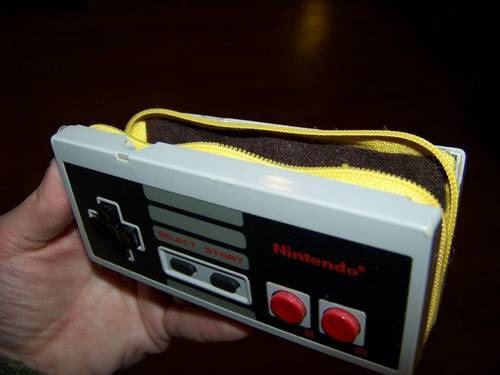 If there's one thing that's handy to find a new use for, it's defunct and disused electronics. Old consoles and games are tricky to recycle, and even if this Nintendo Entertainment System (NES) controller could be melted down for plastic, the end product would be lower grade. Still, with more than a little creativity, some people have turned their old NES controllers into wallets, and the results are impressive.
Reusing materials to make new products often saves money – something any accountant can appreciate as a benefit. For example, recycled aluminum costs about half as much as new aluminum.
8. Denim Jeans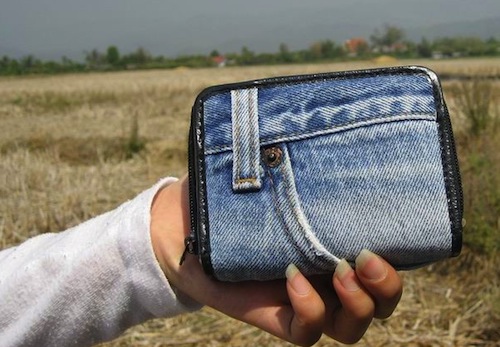 Made from recycled denim jeans, this wallet is sold by Thai Craft Warehouse, a company based in Northern Thailand's Phrao city. It's a family-owned business that sells unique crafts and clothing created by people in fashion workshops, isolated hill tribes and villages. Many of the items are made by women with family commitments, and the Thai Craft Warehouse allows them to work from home rather than in factories. Meanwhile, marginalized hill tribe craftspeople are offered a means through which to be self-sufficient. Indeed, in general, on top of its environmental benefits, recycling is great for the economy in any country because it creates jobs.
7. Subway Map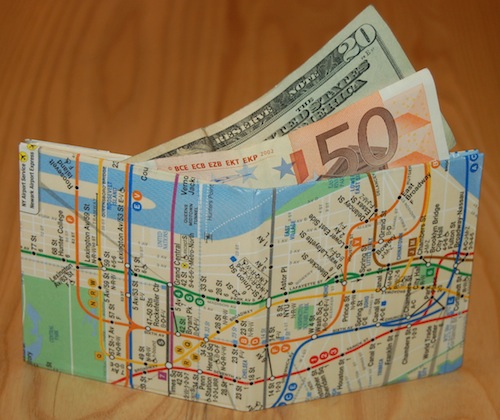 According to one source, recycling waste creates six times more jobs than an equal quantity of waste sent to a landfill. Although origami artist Sok Song's use for the New York City subway map above didn't generate any new employment opportunities, it is a prime example of how upcycling can give an unwanted product a practical purpose.
The material value of recycling is substantial for both individuals and local economies. California, for instance, has created some 85,000 jobs through waste recycling and management – annually generating $4 billion in salaries – and the state's recycling business is worth $10 billion a year in products and services.
6. Skittles Wrapper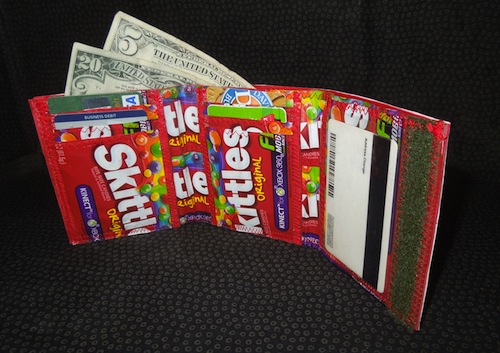 Candy wrappers are often snubbed by recycling organizations. This is because they're normally made from a mixture of materials that are complicated and pricey to retrieve and because they usually aren't found in large enough volumes to make this process financially worthwhile.
However, Polyflow Corp's Joe Hensel says that his company can accept materials that aren't usually recycled – like these wrappers – thanks to a new technology that it has developed. This will eventually, he adds, successfully turn these waste products into glues, paint, gasoline, diesel and more.
Upcycling company TerraCycle also collects snack food wrappers, transforming them into bags, scrapbooks and more. Meanwhile, on a smaller scale, many people have crafted their own products – like the Skittles wallet above – to use themselves or sell online.
5. Cassette Tape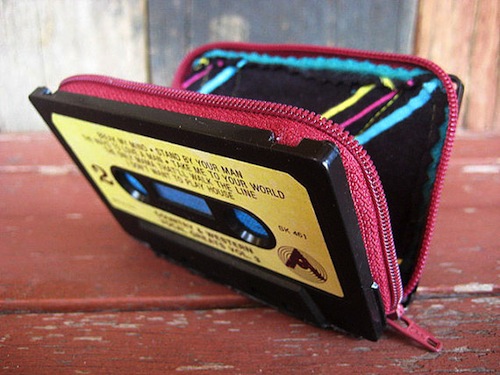 Cassette and VHS tapes are among the most difficult household objects to recycle, and the final, broken-down product is worth practically nothing. In fact, California's GreenCitizen reports that it has to pay another company $15 for every 100 pounds of videotapes, just to get rid of the raw materials – and this doesn't make it economically feasible.
Except for tossing the cassettes in the landfill, or spending hours pulling the tape out in order to recycle the plastic, the only option, really, is reuse. The nifty cassette wallet above is a perfect example of upcycling, but there are lots of other ways for this obsolete technology to find new life. For example, designer Vanessa Moreno has turned cassettes into a fully functional floor lamp and made a sleek-looking table out of VHS tapes.
4. Comic Book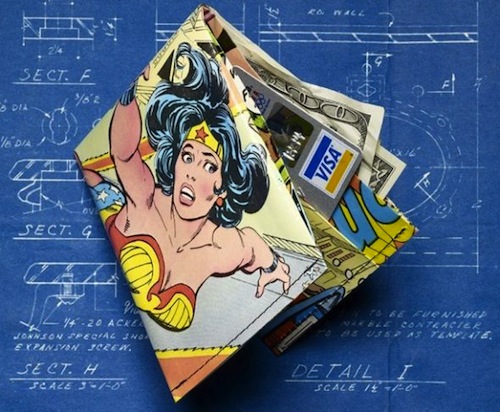 This comic book wallet is definitely cool and fun. And although paper is easily recyclable, putting your dollar bills in a recycled wallet can serve as a good reminder that recycling is able to bring great returns. By simply taking scrap metal, electronics and ink cartridges to the appropriate recycling center, even regular Joes can make money for just a little effort. Don't forget that delivering old clothes to clothing consignment stores can earn a bit of cash, while collected aluminum cans may bring in 25 cents per pound. It soon adds up.
3. Soda Can Tabs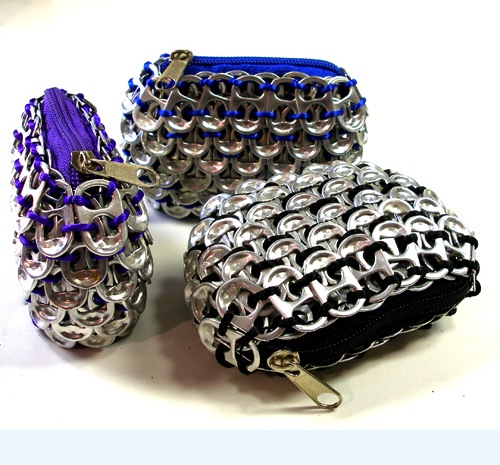 Made out of used soda can tabs, these change purses were crafted by women from Mexican villages. The women have also repurposed other items, such as old tires, paper and candy wrappers, to create various useful products. They're paid for their inventive work by an organization called Bio Imaginarte, which then sells the items they make online. As well as coin purses, the women produce bags, cell phone cases and bottle holders from recycled materials. This process provides these women with an important source of income and so helps tackle poverty in their regions.
2. Juice Carton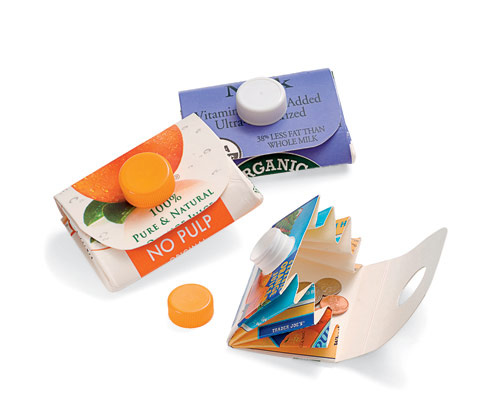 These wallets are made entirely from juice cartons and are a handy and creative way to keep the containers out of the trash. That said, joining RecycleBank may also pay financial dividends for some. RecycleBank serves as a link between people, communities, waste haulers and brands.
Those people who are registered with the company place their recyclables in a special container with a bar code. Then, when the items are picked up, the bar code is read and points are added to their RecycleBank account. These points translate into coupons for goodies such as groceries and magazine subscriptions – and they're a great way to get some money back while doing your bit to help save the planet.
1. Mountain Bike Tire

This wallet is made from a reused mountain bike tire, and the final product is wonderfully industrial looking. The sidewalls of the tire make up the inside, while an extra piece of inner tube was used for the strap.
Clearly, the sky's the limit as far as creative recycled wallets go. Not only are they great for the environment, but they also offer financially savvy ways in which to use resources at hand – and craft useful products from items that might otherwise find themselves at the dump. Recycling itself also boosts our economy, creates jobs, and even offers opportunities to earn extra spending money.