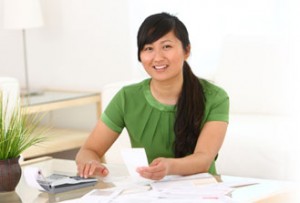 An Online Associates Degree in Accounting is intended for those who have a strong interest in accounting and wish to pursue accounting-related positions. The program provides a broad overview of the accounting field and enables students to acquire the necessary knowledge and skills to land meaningful careers. Students learn a variety of topics including understanding accounting principles, analyzing and summarizing financial documents, preparing and filing taxes, and learning to use accounting software. They study how companies and organizations carry out financial activities and the processes used to report the tasks. Students also learn how to prepare various reports.
Common coursework includes principles of accounting, document processing, payroll accounting, tax accounting, and accounting computer applications. An Online Associates Degree in Accounting usually takes two years or fewer to complete. Students enrolled in an online accounting program enjoy various benefits, including convenient and flexible education. Those working full-time have the ability to complete their education without interfering with work. Also, those with other obligations have the ability to pursue quality education and they can complete their coursework whenever it works with their schedule. An online associates degree in accounting prepares individuals for entry-level jobs in accounting and related fields. It is also a good stepping stone to moving on to advanced degrees in accounting or other closely related areas.
How To Find The Top Online Associates Degree in Accounting Programs
When looking for the best Online Associates Degree in Accounting programs, it is necessary for individuals to only consider programs offered by accredited institutions. When a college or university has regional or national accreditation, it shows that the school has undergone evaluation to offer high quality, approved degree programs. A school's ranking may also help students decide among programs. Various credible sources rank colleges and universities based on many different factors, including faculty credentials, academic resources, retention rate, and financial aid.
When selecting the top online associate degree in accounting programs, prospective students must gather as much information about each program as possible. Some programs may require campus visits or other residency requirements. Other factors to consider include length of program, online learning platform, course materials, student to faculty ratio, availability of instructors, and financial aid options. Southern New Hampshire University and Post University offer some of the top online associates degrees in accounting programs. The associate degree in accounting at Southern New Hampshire University features qualified instructors who are active participants in the success of students. Students have access to the courses at all times to increase convenience. The program requires accounting major courses and general education courses. Post University's associate degree in accounting is committed to helping students succeed to traditional accounting jobs or career in any other field of interest. The program features small classes, career-focused courses, one-on-one online tutoring services, and a curriculum that emphasizes innovation and leadership.
Careers and Salaries For Individuals With an Online Associates Degree in Accounting
There are a variety of Associates Degree in Accounting careers, such as bookkeepers, accounting assistants, and accounts payable clerks. Bookkeepers maintain financial records that document the expenditures, cash flow, profits, and other financial tasks of an organization. Accounting assistants help accountants with managing the finances of a company or client. They typically complete clerical tasks, like typing reports, mailing bills, filing invoices, and answering phone calls. Accounts payable clerks pay all approved expenditures for an organization and make sure all bills are paid on time.
An Associates Degree in Accounting salary varies by location, employer, position, experience, and benefits. The median yearly salary for bookkeepers is around $29,000; accounting assistants $32,000; and accounts payable clerks $31,000. An Online Associates Degree in Accounting is a great choice for individuals looking to complete a wide range of accounting activities in the accounting field or in many other public and private sectors.
Additional Resource: Top 10 Best Online Accounting Degree Programs