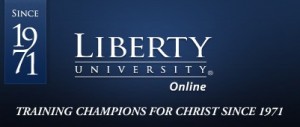 Just about any business or organization needs professional accounting services in order to operate successfully — whether through occasional consultations or on a day-to-day basis– making accounting an in-demand degree and a worthwhile career consideration for individuals with strengths in mathematics, analytical thinking and computer literacy. Degree candidates who have already entered the workforce may require greater academic flexibility than a traditional campus program can provide, but this is no obstacle to earning an accounting degree from an accredited institution. In response to the changing needs of today's students, a growing number of schools provide online accounting degree programs. One such school is Liberty University, the largest evangelical Christian university in the world. Liberty offers a baccalaureate and a graduate-level degree in accounting, both delivered through an entirely online learning format. Ranked highly among online accounting programs for its strong graduation and retention rates, the Liberty University Online Accounting Degree Program is also unique in its emphasis on a Bible-based worldview. The university's accounting curriculum aims to instruct business professionals in looking at ethical issues from a Christian perspective.
Details of the Liberty University Online Accounting Degree Program
Bachelor of Science in Accounting
Liberty University's online B.S. in accounting readies students for success in the business world through a combination of coursework in accounting, communication and computer applications. Going beyond mere number-crunching, the program's curriculum is designed to prepare students for career roles as financial experts and management consultants, stressing critical thinking and problem-solving skills. Students in the program complete 120 credits, including classes in accounting principles, auditing, taxation, economics, corporate finance and business law.
To apply to the Liberty University Online Accounting Degree Program program, prospective students should submit high school and college transcripts. A minimum GPA of 2.0 is required for admission to Liberty University Online. Individuals with a GPA lower than this may discuss their specific circumstances and options with one of the school's admissions specialists. As of the 2012-2013 academic year, tuition for the program was $325.00 per credit for full-time studies and $365.00 per credit for part-time studies, with scholarships, grants and loans available to qualified students. Employed students may be able to take advantage of Liberty's corporate tuition partnership program, which enables employers to assist their employees in financing their education.
Master of Science in Accounting
Led by experienced faculty, Liberty University's online master's degree in accounting prepares accounting professionals for today's complex international world of business. In addition to advanced-level coursework, the curriculum also stresses the development of analytical thinking, current research methods and verbal and written communication skills. The degree track can be completed in one or two years, and helps accounting professionals to meet the 150 hours required to sit for the CPA exam. The M.S.A. program requires the completion of 30 credits, encompassing classes in cost accounting, financial accounting theory, accounting information systems and business law. Degree candidates also choose from electives such as executive leadership, marketing strategy or entrepreneurship for a well-rounded education. The program's strong emphasis on ethical leadership in the business world helps to set it apart among online accounting programs.
For admissions consideration, applicants should have earned an undergraduate GPA of at least 3.0, and should have completed seven prerequisite courses in accounting. During the 2012-2013 academic year, full-time graduate students paid $465.00 per credit, while part-time students paid $505.00 per credit. Eligible degree candidates can apply for scholarships and federal financial aid. For students already working in the field, Liberty's corporate tuition partnership program may be an option to help finance the Liberty University Online Accounting Degree Program.