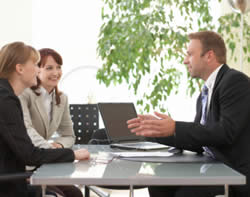 As one of the fastest-growing career fields, the scope of accounting degree jobs continues to evolve as technology expands. Those who are interested in playing an important role in business, have keen attention to detail, and are well-organized may find an accounting degree program to be a good fit. Accredited schools offer accounting degrees at the bachelor, Masters, and PhD levels, at both brick-and-mortar institutions and through some of the best online accounting degree programs. Successfully completing a program at a school with a high ranking can make a graduate more competitive as a job applicant and improve employment prospects. Examples of schools with strong accounting programs are the University of Illinois with its low student to teacher ratio, and the University of Texas at Austin, which is considered to have a very selective admissions policy.
Popular Accounting Degree Jobs
Considered one of the more exciting jobs in accounting, forensic accountants assist law enforcement agencies in investigating financial crimes by following transaction trails in search of illegal activity. In addition to successfully completing the CPA exam, forensic accountants must also become a Certified Fraud Examiner or Certified Forensic Accountant. Having a degree in Criminal Justice may also be helpful. On average, these accountants earn $48,000 to $72,000 each year.
Comptrollers, also known as Controllers, are responsible for monitoring an organization's incoming and outgoing finances and how accounting and financial activity is reported. Financial Controllers may work for businesses and governments. In larger organizations, they usually report to the Chief Financial Officer, or CFO. In smaller companies, these two Accounting Degree Jobs may be combined. Having CPA certification is helpful, though not required in qualifying for a Controller position. Average Controller salaries range from over $46,000 to $78,000 and may be much higher at more prestigious firms.
Internal Auditors are becoming increasingly important as companies are required to comply with more regulations. Internal auditing is the process by which a company ensures that its practices meet the desired standard in areas such as fraud prevention and investigation, reliable financial reporting, asset protection, and regulatory compliance. Auditors assess how well a company is meeting its internally set standards and advise management on how the company can improve. Average starting salaries for internal auditors range from $77,500 to $101,500.
Certified Public Accountants, or CPAs, are in high demand across all sectors. Public accountants analyze financial data, organize records, and work to ensure that organizations remain tax-compliant. CPAs may also work independently and offer tax preparation services to individuals and small businesses. The CPA designation carries the benefit of being highly respected and recognized internationally. Because CPAs may work in virtually any give sector, salary average can range from $47,000 to well over $100,000.
Chief Financial Officers are the highest-ranking financial officers within a business, and as such the most coveted of all Accounting Degree Jobs. They typically create budgets and set financial goals for the organization. CFOs who work for publicly traded companies are accountable for the company's financial reporting. The road to becoming a CFO is highly competitive as the position entails a very high level of responsibility and commands a large salary. On average, Chief Financial Officers earn from over $82,000 to more than $151,000 each year.
Accounting is a growing career field that spans across both private and public sectors. Current trends indicate that accounting degree jobs will be increasingly available for years to come.